Bigger Isn't Always Better
It's no secret – we're getting bigger. In the United States, more than 7 in 10 adults are overweight or obese. Of the 37.7 percent who are obese, 7.7 percent suffer from extreme obesity. With obesity rates increasing across the U.S., hospitals, clinics and other healthcare facilities have had to adapt.  Everything from the width of the hallways, to the products used for care, to the plumbing facilities have had to be adjusted to accommodate for a growing population of patients.
But perhaps the biggest impact of our growing population has been felt by our caregivers. Research shows that while bariatric patients only account for about 10 percent of hospital admissions, they also play a role in 30 percent of staff injuries.
According to the National Institute for Occupational Safety and Health (NIOSH), manual patient handling is the greatest risk factor for overexertion injuries. In fact, hospital workers experience twice the amount of overexertion injuries as the national average – and nursing home workers average more than three times as many.
There isn't a single solution or a quick fix to solving these complex issues, but the equipment that is used to care for the bariatric population can play a big role in protecting both patients and caregivers. In fact, ensuring clinicians have access to a full suite of bariatric-specific medical equipment (bed frame, specialty surface, commode, trapeze, etc.) has been shown to reduce the risk of injury, minimize length of stay, prevent against pressure injury development and reduce fall risk.
Barriers to Accessing the Right Bariatric Specialty Equipment
The challenge is ensuring caregivers can quickly access the full complement of bariatric equipment when it is needed. Due to the unpredictable demand, most healthcare organizations choose to not own a lot of bariatric specialty equipment and surfaces designed for this specific at-risk patient type. For those that do purchase, it can be costly and time-consuming process to manage. During dips in census most of that equipment will sit unused or used outside of their intended purpose for non-bariatric purposes (low ROI). Many healthcare facilities also don't have a standardized process to ensure equipment is cleaned and disinfected thoroughly prior to using on the next patient – which can result in caregivers using unclean equipment or spending time away from their patient searching for the right bed or surface.
Collectively, these factors lead most healthcare facilities to opt to rent the equipment they need when demand spikes. Combined with the right care protocols and process, this can be a cost-effective strategy. But without a dedicated equipment management or ordering process that ensures a full suite of equipment is readily available, there can be breakdowns that lead to adverse outcomes for caregivers and patients.
For example, instead of being able to order an entire bariatric suite upfront, nurses are often tasked with coordinating multiple requests for more bariatric equipment – first a bed and surface, then later on a bariatric commode and trapeze. This, in turn, means clinicians are spending less of their valuable time with the patients they serve. Not only is this frustrating for the caregiver, it's potentially risky for the patient as it can then lead to delays in patient care as the appropriate therapy is tracked down.
Shortening the time from patient admission to placement on the correct therapy surface is essential to reducing the risk of hospital-acquired pressure injuries (HAPIs). As discussed in a previous article, patient's tissues can only manage the pressure of a standard bed for two-and-a-half hours before being at risk of breakdown. This is far less than the 7-hour average clinicians report it takes to place an at-risk patient on a therapy surface.

And it's not just the patient who is affected. It's when these therapies aren't available that caregivers are at a heightened safety risk.
Without the proper and readily available in-house medical equipment to aid in transporting or repositioning bariatric patients, nurses and patients both face a higher probability of being injured. This can lead to excess patient care costs, as well as workers comp costs if they are injured while manually trying to move a patient.
The bottom line: Not having the right equipment where and when it is needed leads to lower clinician satisfaction, a poor patient experience and adverse impacts on patient outcomes.
Specialty Equipment Collections: The Bariatric Suite
So, what can a healthcare facility do to ensure both the patient and caregiver have what they need, when they need it? Look no further than the bariatric collection.
A specialty equipment collection is designed to provide ancillary equipment specific for an at-risk patient type – in this case bariatric patients – at the same time as a specialty bed frame and surface.
These collections can be tailored to specific needs within specific at-risk categories. For example, equipment that would help caregivers serve a mobile bariatric patient versus the equipment needed to care for an immobile bariatric patient. A mobile bariatric patient may require a bariatric frame and surface, a trapeze to assist with the patient's movement while they are in bed, a bariatric walker to help with ambulation and a bariatric chair to allow the patient to be up and out of bed. On the other hand, an immobile bariatric patient may require a bariatric bed frame and surface, bariatric wheelchair and a bariatric patient lift to help safely move them from one place to another.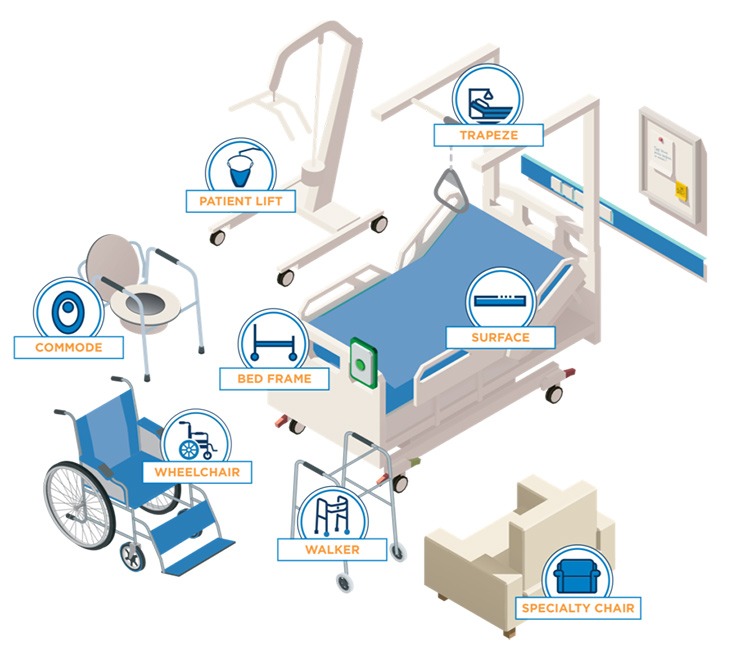 The Benefits of Having the Right Bariatric Equipment
While purchasing a bariatric suite of equipment could help enhance patient care and be useful for many hospitals, the truth is it's a high capital expense that requires additional management, tracking, cleaning and maintenance that is overwhelming for most facilities. In most cases, a better option for care facilities is to rent. Renting bariatric equipment can provide a hospital with multiple benefits aside from capital avoidance.
Improve patient and caregiver safety. The sooner a patient can be placed on specialty equipment, the safer it is for the patient and the caregiving staff. By ensuring proper equipment is available closer to the time of the patient's admission will reduce the likelihood staff will attempt to lift or walk a bariatric patient without the proper equipment. Partnering with a vendor who can help develop and implement a plan to reduce therapy delays could mean the difference between a patient acquiring a HAPI or not.
Reduce adverse events and therapy delays. Chances are, if you need a bariatric frame and surface delivered promptly to avoid delaying patient care, you should also have the bariatric wheelchair, trapeze and other pieces of equipment from the bariatric suite delivered at the same time. Not only does same-time delivery reduce time spent by clinical staff acquiring ancillary products and get patients on the right therapy equipment faster, but it can help increase nurse and patient satisfaction.
Increase clinician time at the bedside. It's pretty simple: The less time clinicians are looking for or ordering the right therapy equipment, the more time they're able to spend on direct care with their patients. More direct care equals a better patient experience, which can help boost patient satisfaction. In addition to this, because caregivers are spending more time doing what they entered the profession to do (provide care), nursing satisfaction also rises.
Four Tips for Implementing a Bariatric Suite
Know which bariatric products are locally available. The first step to implementing a bariatric suite is talking to vendors in your area to figure out which bariatric products are available to rent locally. If you work with a rental provider that is able to offer all the bariatric products required for your patients, your staff can spend less time securing the equipment needed.
Know your facility requirements. Many older healthcare facilities have narrow doorways or inclined ramps/hallways. Make sure the equipment you rent can meet your specific requirements with collapsible sides to narrow the frame to drive systems that assist in the transfer of patients.
Evaluate equipment delivery times. Reducing the risk of a patient suffering from a hospital-acquired pressure injury means getting at-risk patients on the right therapy, faster. When you're renting, you need to ensure your rental vendor can provide this essential equipment quickly. Compare vendor delivery time commitments to ensure your patients will have quicker access to the specialty equipment needed for their therapy.
Assess the ordering process. Once you have determined which vendor is best positioned to help your facility and patients, ensure that ordering the right equipment at the right time is simple. Have your vendor craft a customized algorithm and quick order guide so caregivers can easily determine which equipment should be ordered for specific patients. Not only does one-call ordering reduce central supply staff time placing multiple orders, and it simplifies the overall request process.

Interested in learning more about implementing a full bariatric suite into your facility? Contact a local Agiliti expert today. Or visit our resource center to learn more.