SURGICAL EQUIPMENT REPAIR AND MAINTENANCE
High-quality Service and Education to Optimize Performance and Extend Useful Life​
Unlock Immediate Savings by Simplifying the Repair
Lifecycle of Essential Surgical Equipment
Surgical equipment and instruments are essential components of daily operations that impact outcomes in the OR and other procedural areas. You need confidence that your devices are patient-ready and available to deliver the high level of performance needed for successful, consistent procedures. Agiliti provides hospitals with fast, reliable access to local repair and maintenance services that maximize equipment availability — delivering significant cost savings. We also offer robust educational resources to help your staff prevent avoidable equipment damage and reduce unnecessary repair costs.
Simplifying Service for Essential Surgical Equipment​
From the flexible endoscopes, rigid endoscopes and power equipment that drive complex procedures, to the surgical instruments used in every case, your facility depends on the availability and precise performance of these critical devices. Yet, too often, servicing these devices can become a time-consuming and expensive burden for staff to manage — leading to high replacement and maintenance costs as well as an increased risk of lower performance during surgical procedures.
Ensure Precision and Performance With
the Equipment That Keeps Your OR Running
Agiliti provides comprehensive, high-quality service for your surgical equipment and instruments. With the ability to repair most surgical instruments onsite, you benefit from minimal case disruption, faster repair turnaround and lower service costs. For more extensive repairs, we use our nationwide network of depot repair facilities to quickly return equipment to their original operating condition. Our repair process is governed by industry-leading standards for quality (ISO 13485:2016)*, and our team of experienced technicians take pride in delivering exceptional craftsmanship with every repair. In addition, Agiliti provides continuing education for your staff — on-demand and onsite — to help prevent avoidable equipment damage. The goal? Enhance patient safety, maximize the useful life of your equipment, and deliver immediate cost savings.
Drive Outcomes That Matter
Surgical Equipment Repair Portfolio
Flexible endoscope services that adhere to the highest standards for patient safety and quality. From simple maintenance to complex repairs, we ensure your flexible endoscopes continue to perform like new — while reducing service costs.
Agiliti offers a wide range of repair services to cover the network of rigid endoscopes and components — from scopes to fiber optic cables to video equipment.
Whether it's laparoscopic instrument reinsulation, complex forcep repairs or instrument diamond dusting, we provide a broad range of onsite surgical instrument repair services that ensure the integrity and performance of your surgical instruments.
As some of the most high-use elements in the OR, Agiliti can help prolong the useful life of critical power tools — including pneumatic, electric/battery, Phaco and dental equipment — without sacrificing performance or quality.
Additional Surgical Equipment Services
Agiliti specializes in proven repair methods that can help you protect equipment functionality and OR uptime by maintaining, repairing, cleaning and restoring most types of surgical equipment — from sterilizers to case carts, OR tables, IV poles and more.
Continuing Education And Training
Agiliti offers comprehensive education, training and development opportunities related to the care, handling, storage, maintenance and repair requirements for surgical instruments and endoscopic equipment. We provide you with the tools and resources for continued professional development that increase your efficiency and play an integral role in enhancing quality and efficiency while lowering costs for your department.
Comprehensive Nationwide Network of Service and Expertise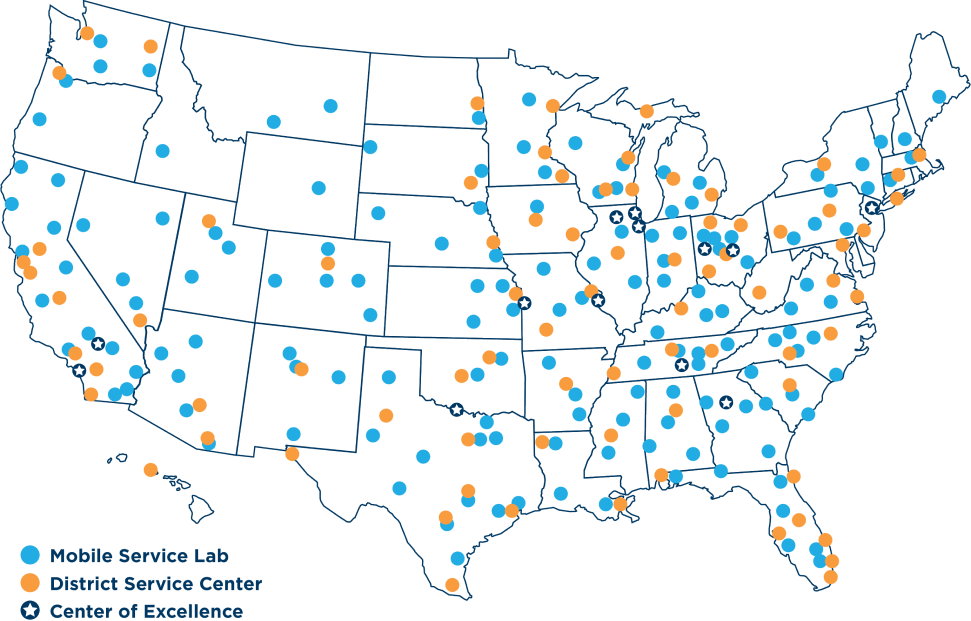 275+
Mobile service labs for local, same-day repairs
Explore Other Medical Equipment Services
Agiliti provides a number of online tools to help our customers better manage and track surgical equipment services.
Foundational for Equipment Value Management
ONE ELEMENT OF A BROADER COST SAVING SOLUTION
Agiliti is quickly becoming a preferred source for surgical equipment repair because of our dedication to quality craftsmanship and unmatched service capabilities. But surgical equipment repair alone doesn't address the growing challenges associated with a hospital's entire network of equipment. Agiliti offers an approach called Equipment Value Management (EVM) that fixes processes within your hospital to multiply cost savings and deliver valuable clinical improvements.
*Agiliti is ISO 13485:2016 certified for the products and services and at the locations described in the scope of our certificates. Please refer to our Resources page for our current ISO certificates.