EMERGING TECHNOLOGIES TRANSFORMING HEALTHCARE
Free Your Healthcare Technology Management Team to Lead the Effort
Understanding the Technologies Reshaping the Patient Experience
The COVID-19 pandemic showed just how rapidly technology can transform the way healthcare is delivered on both a day-to-day clinical and broader public health level. But the pace of technology change is only accelerating — and the next wave of transformative technologies promises to fundamentally reshape healthcare and redefine the patient experience.
Healthcare Technology Management Experts Leading Tech Strategy
The role of Healthcare Technology Management (HTM) is rising to a strategic business level. HTM teams now play a central role in evaluating emerging technologies and identifying technology investments that align to top-level growth strategies.
HTM team members spend nearly half (40%) of their time on low-value tasks — searching for equipment, managing multiple vendors and servicing functional equipment due to operator error, etc. — leaving too little time for technology exploration and decision-making.3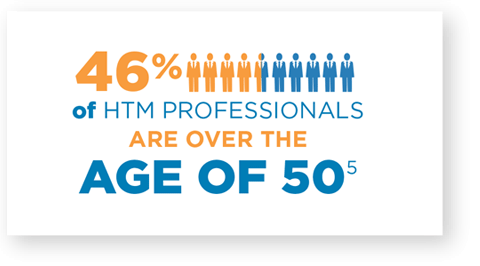 Alleviate the burden of low-value tasks so your clinical engineering team can deliver greater value to your hospital.
Other Insights and Resources
Elevate Your Team – Improve Your Hospital
Sources:
1. Deloitte
2. Vantage Market Research
3. Indiana and Purdue University Research. (2009, November 17). University Research Concludes Real Time Location Systems Can Transform Hospitals.
4. Horblyuk, R., Kaneta, K., McMillen, G., Mullins, C., O'Brien, T., Roy, A. (2012, July). Out of Control – little-used clinical assets are draining healthcare budgets.
5. 24×7 HTM Salary Survey 2021